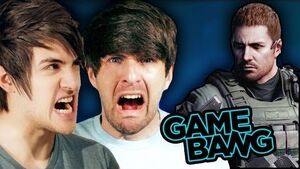 Zombies Eat Chicken Brains, Right? is the seventh installment of the Smosh Games series Smosh Game Bang.
It was uploaded on 9th November 2012 on both smosh.com and YouTube.
The Smosh Games gang are on the hunt for some zombies in Resident Evil 6.
Punishment
Edit
The lowest scoring member would have to eat a cold chicken from the winner's head as if it were their brain.
Turn order
Edit
Anthony
Jovenshire
Lasercorn
Mari
Sohinki
Ian
1st place: Sohinki (38,720)
2nd place: Jovenshire (20,020)
3rd place: Ian (15,820)
4th place: Lasercorn (13,820)
5th place: Mari (5,760)
Last place: Anthony (5,580)
Anthony was oblivious to the time crystal by the tram, hence he may have got a higher score had he actually hit it.

Plus no one told him to shoot it.

Conversely, Sohinki was the only player to hit BOTH of the time crystals in the game (Hence why his score is 18,700 ahead of Joven, who was the second best scoring player).
Ad blocker interference detected!
Wikia is a free-to-use site that makes money from advertising. We have a modified experience for viewers using ad blockers

Wikia is not accessible if you've made further modifications. Remove the custom ad blocker rule(s) and the page will load as expected.