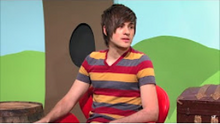 Work Sucks! Ft. Anthony Padilla is the second installment for the Shut Up! Cartoons series Just Shut Up!
Trivia
Around the time this was uploaded, Shut Up! Cartoons verified their username on YouTube.
The thumbnail for the video was changed at one point to feature only a screenshot of Anthony. The old thumbnail can be seen below.
Screenshots
(more will be added at a later date)
Video