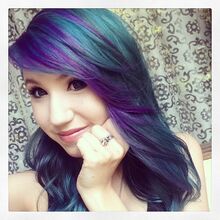 WonderlandWardrobe is Kalel Cullen's former channel running from December 9, 2012 to June 10, 2013. It was her third channel after she shut down QueenBeeuty and Cozplai. It disappeared from YouTube in 2015.
Channel
The channel mostly showed Rewind Vlogs and videos about fashion, with some aspects of the channel closely related to QueenBeeuty. It was a very short lived channel, lasting rough six months on YouTube before being shut down in favor of focusing on WatchUsLiveAndStuff.
Guest Appearances on the Channel
Trivia
For some time, some videos were removed from the channel (the Rewind Vlogs were saved).
Some videos that were saved were the Rewind Vlogs (which were revived as WatchUsLiveAndStuff during 2013-2014).
Anthony Padilla appeared in the Rewind Vlogs & the videos that were wiped from past channels (QueenBeeuty).
Ad blocker interference detected!
Wikia is a free-to-use site that makes money from advertising. We have a modified experience for viewers using ad blockers

Wikia is not accessible if you've made further modifications. Remove the custom ad blocker rule(s) and the page will load as expected.