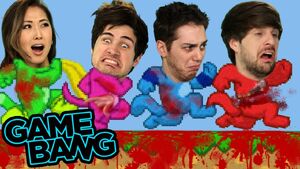 We Slaughter Helpless Critters is the seventy-ninth installment of the Smosh Games series Smosh Game Bang.
It was uploaded on March 28, 2014 on both smosh.com and YouTube.
Synopsis
The Smosh Games crew play Death Match mode on Bloody Trapland.
Punishment
The players all have one of their stuffed toys with them, and the three losers have their toys torn apart by the three winners.
Scores
1st place: Sohinki (15 pts)
2nd place: Anthony (14 pts)
3rd place: Lasercorn (12 pts)
4th place: Jovenshire (11 pts)
5th place: Mari (6 pts)
Last place: Ian (5 pts)
Trivia
In this episode, Sohinki overtook Lasercorn for most consecutive wins.
Since this episode has aired, Smosh Games have released a disclaimer that points out the toys that were butchered were not their "most-cherished" childhood toys.
Ad blocker interference detected!
Wikia is a free-to-use site that makes money from advertising. We have a modified experience for viewers using ad blockers

Wikia is not accessible if you've made further modifications. Remove the custom ad blocker rule(s) and the page will load as expected.