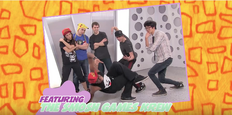 We Learn to Break Dance is the seventy-first installment for the SmoshGames series I Have a Raging Bonus.
Synopsis
This week the Smosh Games Krew is learning to "Break it Down" with Dance Master Flitz. Watch as this krew is about to get serious... and, hopefully not seriously hurt.
Video
Ad blocker interference detected!
Wikia is a free-to-use site that makes money from advertising. We have a modified experience for viewers using ad blockers

Wikia is not accessible if you've made further modifications. Remove the custom ad blocker rule(s) and the page will load as expected.