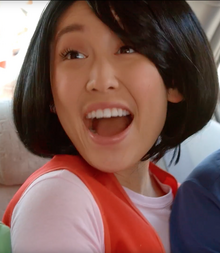 Wanda is a character from the video Adult Magic School Bus. She is the adult version of Wanda Li from the show The Magic School Bus. She is portrayed by Olivia Sui.
Character Actions and Analysis
Wanda is seemingly very happy to be back with the gang and on another adventure. She retains her childlike quality and she seems to accept Miss Frizzle's requests with more enthusiasm and willingness than anyone.
Wanda knows the school bus was repossessed but does not find that strange. However, her enthusiasm fades when she realizes there are no pictures of Miss Frizzle in the house that she was told is supposedly Miss Frizzle's. From then on out she is at Miss Frizzle's mercy.
At the end of the adventure, she later realizes she has been wearing the same clothes for 20 years.
Ad blocker interference detected!
Wikia is a free-to-use site that makes money from advertising. We have a modified experience for viewers using ad blockers

Wikia is not accessible if you've made further modifications. Remove the custom ad blocker rule(s) and the page will load as expected.