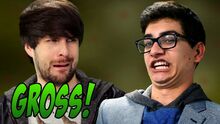 Trying Not To Puke!
is a episode of
Lunchtime with Smosh
where the crew goes and eats Indian food. The episode features cast members
Noah Grossman
,
Keith Leak II
and
Olivia Sui
.
The episode became the idea for Noah's Smosh 2nd Channel show Put it in My Mouth as he was trying not to puke while eating his food and admitted he was a very picky eater.
Synopsis
Olivia, Keith and Noah join us for a special edition of Lunchtime w/ Smosh and we find out really quick what kind of foods they like, or don't. Can Noah keep it together or will his lunch end up on the floor?
Ad blocker interference detected!
Wikia is a free-to-use site that makes money from advertising. We have a modified experience for viewers using ad blockers

Wikia is not accessible if you've made further modifications. Remove the custom ad blocker rule(s) and the page will load as expected.