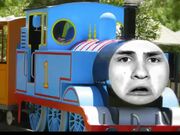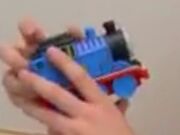 Thomas is a blue tank engine with red stripes and a yellow number one on his side. He started out as a station pilot at Vicarstown.
The character of Thomas was originally the brainchild of an English Anglican cleric named Wilbert Awdry (known to many as the Reverend W. Awdry), he first appeared in the 2nd book of Awdry's Railway Series in 1946 and has since become the iconic figure of the series.
Thomas has a Branchline of his own as well as two coaches named Annie and Clarabel. He got them after rescuing a black-painted mixed-traffic engine named James (who was later painted red) when some naughty Troublesome Trucks knocked him off the line. He said he wanted to teach those truck a lesson, which is possibly referring to when the truck bumped Thomas down Gordon's hill.
The books were eventually made into a TV series known as Thomas the Tank Engine and Friends (Later abbreviated to just Thomas and Friends), which made its debut on the ITV network on Tuesday 4th September 1984. The UK version of the series was originally narrated by The Beatles' drummer Ringo Starr for the first 2 series, but was taken over in series 3 by Michael Angelis, who narrated until series 16. The US version of the series has been narrated by George Carlin (series 3 and 4), Alec Baldwin (series 5-6), Michael Brandon (series 7-16) and Mark Moraghan (series 17-present) who also now narrates the UK version.
In the Smosh series, he was played by Anthony in one of the skits of If Kids Shows Were Real, he has not appeared in any other episodes except for REJECTED VIDEOS!, where Ian was playing with a toy of him in the bath.
Appearances
Basis
London and Brighton South Coast Railway E2.
Trivia