The End is Near-ish? is the 23rd episode of the Smosh Games series MariCraft.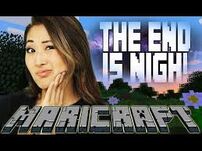 It was uploaded on September 8, 2014 on both YouTube and smosh.com
Synopsis
Mari, Lasercorn, Sohinki, and Wes gather resources needed togo to the End dungeon and fight the End dragon
Trivia
This was the second episode of MariCraft's End series
The End dungeon was found in this episode
Lasercorn burned down Sohinkington in this episode
Jovenshire was not in this episode
Ad blocker interference detected!
Wikia is a free-to-use site that makes money from advertising. We have a modified experience for viewers using ad blockers

Wikia is not accessible if you've made further modifications. Remove the custom ad blocker rule(s) and the page will load as expected.