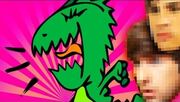 The Dinosaur Dance!
is the 28th installment of
Lunchtime with Smosh
.
Video Description:
CHeck out our prehistoric dance, 65 million years in the making.
Food
Main: Sesame seed bun hamburger and fries with ketchup.
Dessert (Ian): a superbowl football cookie with chocolate frosting outlining the football stitching.
Finding Twitter Questions
Can you dance like a dinosaur?
Which one of you can do a better Duke Nukem impression?
can you breathe at the same time you whistle??
Can you say "Chåschüechli"?
can you do the ':s' emoticon?
Rating
8 tissues out of 10
Ad blocker interference detected!
Wikia is a free-to-use site that makes money from advertising. We have a modified experience for viewers using ad blockers

Wikia is not accessible if you've made further modifications. Remove the custom ad blocker rule(s) and the page will load as expected.