Teenage Mutant Ninja Turtles Theme



Released:

January 25, 2006

Views (Approximate):

12,125,000+

Season:

Episode

1

Previous Video:

Next Video:
Teenage Mutant Ninja Turtles Theme is a Smosh video released January 25, 2006. It is the first video in Season 2006.
Synopsis
Ian and Anthony act out the Teenage Mutant Ninja Turtles Theme Song.
Plot
Anthony is standing in the middle of the forest, opening his new "frisbee," which is really an AOL Internet CD. He calls out to Ian, who walks over to him. Anthony shows Ian his frisbee, and they begin to throw it to each other. Ian throws the frisbee over a far distance, and the two have to run to catch it. It lands in a sewage pipe, and Ian goes in to retrieve it. When Ian doesn't come out, Anthony goes in as well.
Ian walks into a bedroom, and Anthony soon follows behind. They wonder where they are, and Anthony comments that it looks like his room. When they realize that it really is Anthony's room, they walk over to the camera and start lip syncing the Teenage Mutant Ninja Turtles theme song.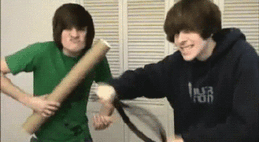 Video
https://www.youtube.com/watch?v=6D9p-wmtIJc
Script
Teenage Mutant Ninja Turtles Theme/Script
Trivia/Goofs
During the lines, "He's a radical rat," there is a unnamed girl that stands along with Ian and Chuck E. Cheese.

As pointed out years later in an episode of Lunchtime with Smosh, Ian said one of his early jobs was working at Chuck E. Cheese's as the costumed Chuck E. character. This may have evidenced how they have got in to film with Chuck E.

The picture changes from a red picture with a black O, to a guy then back to an O picture before the lyrics are sung.
On "That's a fact, Jack!" in the background, someone gets hit by a car.
Shredder is actually a paper shredder in this video.
Anthony and Ian's clothing are constantly changed throughout the video.
When the disc is flying, you can see the fingers moving it and the sounds of it flying is made by either Anthony or Ian's voice.
Although Ian threw the frisbee away in the forest, it was actually Anthony who threw the frisbee in the sewer as shown in the preview episode.
In the LEGO Battle, Jigglypuff is riding a skateboard, then knocked off.
When beating "Shredder", Ian beats it with the whip used in Pokemon Theme Song
Some of the video was shot in 2005, since it was released in early 2006.
Gallery