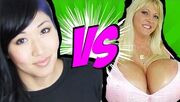 Teen vs. Fake Boobs!
is the sixty-fifth installment for the
IanH
series
Smosh Pit Weekly
.
Featured Articles
Girl Voices All the Original Pokemon
Mom Pressuring 14-Year Old Daughter to Get Breast Implants
Mari's Questions
Do you side with the teen or mom on the matter of fake boobs?
Choose one: Boobs or Personality?
What's your favorite cereal?
Who's excited for The Dark Knight Rises?
Ad blocker interference detected!
Wikia is a free-to-use site that makes money from advertising. We have a modified experience for viewers using ad blockers

Wikia is not accessible if you've made further modifications. Remove the custom ad blocker rule(s) and the page will load as expected.