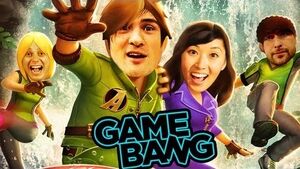 Team Iancorn on an Adventure is the twelfth installment for the Smosh Games series Smosh Game Bang.
It was uploaded on December 14, 2012 on both smosh.com and YouTube.
Synopsis
The Smosh Games crew play Kinect Adventures in three teams of two.
Scores
Team Anthinki: Sohinki - 472, Anthony - 580, OVERALL 1052
Team Iancorn: Ian - 478, Lasercorn - 519, OVERALL 997
Team Marishire: Jovenshire - 485, Mari - 512, OVERALL 997
Punishment
The original punishment was to have the lowest scoring team go down the raft together while having various items thrown at them, but since two teams tied for last place, the punishment was changed to two people from the same team play as one (one as arms, second as front) on the same course.
Trivia
This is the first time Ian and Lasercorn have been in a team (as team Iancorn), despite the Iancorn "romance" having been referenced a number of times since Just Dance 4 Hilarity!.
This is probably the most unbelievable tie in Game Bang history as two teams tied for last place with the exact same final score, such a feat has so far never been repeated.
This is Ian and Lasercorn's second punishment together.
Ad blocker interference detected!
Wikia is a free-to-use site that makes money from advertising. We have a modified experience for viewers using ad blockers

Wikia is not accessible if you've made further modifications. Remove the custom ad blocker rule(s) and the page will load as expected.