Tanzy
is the pink ninja and the only female ninja protagonist in
Zombies vs. Ninjas
. As a female,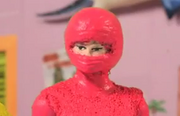 she usually partakes in stereotypical female tasks and is known to be very naggy. Tanzy does all the cooking, cleaning and is often put in a bad mood because of the male ninjas' immaturity. She is also shown to have some sort of hatred towards
Spencer
, although she does help him when he is in trouble. Tanzy is also close friends with Chris and
Bartleby
who take her side during an argument or Zombie Riot.
Ad blocker interference detected!
Wikia is a free-to-use site that makes money from advertising. We have a modified experience for viewers using ad blockers

Wikia is not accessible if you've made further modifications. Remove the custom ad blocker rule(s) and the page will load as expected.