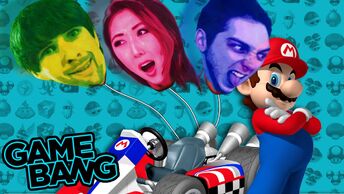 Sucking Helium in Mario Kart is the eighty-first installment of the Smosh Games series Smosh Game Bang.
It was uploaded on 11th April 2014 on both smosh.com and YouTube.
Synopsis
The Smosh Games crew play Mario Kart Wii.
Punishment
Bottom three players have to inhale helium from a balloon and sing a song of the winner's choice.
Characters used
Anthony: Koopa Troopa
Ian: Yoshi
Jovenshire: Baby Mario
Lasercorn: Wario
Mari: Baby Peach
Sohinki: Luigi
Battles
1st place: 4 points, 2nd place: 3 points, 3rd place: 2 points, 4th place: 1 point
Note: Players are listed below in seat order moving clockwise from bottom right.
Round 1
Players
Ian, Anthony, Mari and Lasercorn
Scores
Anthony
Lasercorn
Ian
Mari
Round 2
Players
Sohinki, Ian, Anthony and Mari
Scores
Anthony
Sohinki
Ian
Mari
Round 3
Players
Jovenshire, Sohinki, Ian and Anthony
Scores
Anthony
Jovenshire
Sohinki
Ian
Round 4
Players
Lasercorn, Jovenshire, Sohinki and Ian
Scores
Jovenshire (=1) 4
Lasercorn (=1) 4
Sohinki (3)
Ian (2)
Round 5
Players
Mari, Lasercorn, Jovenshire and Sohinki
Scores
Lasercorn
Sohinki
Jovenshire
Mari
Final Round
Players
Anthony, Mari, Lasercorn and Jovenshire
Scores
Lasercorn
Anthony
Jovenshire
Mari
Scores
=1st place: Anthony (15 pts)
=1st place: Lasercorn (15 pts)
3rd place: Sohinki (11 pts)*
4th place: Jovenshire (11 pts)*
5th place: Ian (7 pts)
Last place: Mari (4 pts)
Note: Sohinki and Jovenshire subsequently played a final match for the role of the third loser, in which Jovenshire was quickly defeated.
Trivia
Despite winning, Anthony and Lasercorn willingly took part in the punishment.
This was Lasercorn's 4th consecutive win at the time, he nearly beat his personal best winning streak and could have tied with Sohinki's personal best (which is the longest so far) but the streak was broken in the following episode.
This is one of the many 1, 2, 3, 4 point scoring system Game Bangs in which Mari never got higher than last place

Also in this Game Bang, Ian never got higher than 3rd place and Sohinki never got higher than 2nd place.
In most Game Bangs of this sort the 1st-4th place system ranges from 3-0 points. This is the first time the lowest scorer has not recieved 0 points.

The order of turns for this episode was exactly the same as Smosh Games Party.
The scores for this Game Bang almost reflect those of the previous Mario Kart Game Bang, the ranking would have been exactly the same had Anthony been one point higher.
Ad blocker interference detected!
Wikia is a free-to-use site that makes money from advertising. We have a modified experience for viewers using ad blockers

Wikia is not accessible if you've made further modifications. Remove the custom ad blocker rule(s) and the page will load as expected.