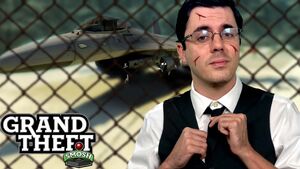 Stolen Jet Gang is the sixtieth installment in the Smosh Games series Grand Theft Smosh.
Video Description:
Joven's 4 continue their mission inside the military base. The tanks may all be missing, but there are still plenty of jets to go around. Let's grab them and take to the skies.
Video
Ad blocker interference detected!
Wikia is a free-to-use site that makes money from advertising. We have a modified experience for viewers using ad blockers

Wikia is not accessible if you've made further modifications. Remove the custom ad blocker rule(s) and the page will load as expected.