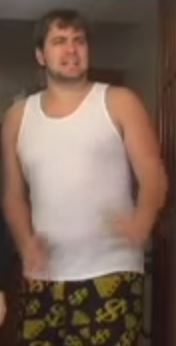 Stephan Andrew Hecox is the father of Ian and Melissa Hecox and the husband of Cheryl Hecox.
Appearances
"April First" (played by Anthony)
"Food Battle 2009" (extras)
"Pimps of Prom" (played by Anthony)
"Flappy Bird Ruined My Life" (mentioned)
"Lunchtime w/ Our Dads!"
Family
<--Ian Hecox (son)
Melissa Hecox (daughter)
Adrian Hecox-Hendrix (son)
Cheryl Hecox (Spouse)
Kwan Hecox (grandson)
Pierre Hecox (nephew)
Ad blocker interference detected!
Wikia is a free-to-use site that makes money from advertising. We have a modified experience for viewers using ad blockers

Wikia is not accessible if you've made further modifications. Remove the custom ad blocker rule(s) and the page will load as expected.