Star Wars Battlefront Live Stream! is a Smosh Games live stream released December 4, 2015. The live stream lasted for almost six hours (5 hours 57 minutes).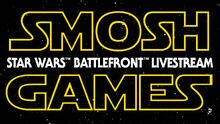 Live Stream
The Smosh Games crew plays the new Star Wars Battlefront online with guests MatPat, The Warp Zone, SourceFed's Steve Steve Zaragoza & Maude Garrett, and Dan Casey.
Ad blocker interference detected!
Wikia is a free-to-use site that makes money from advertising. We have a modified experience for viewers using ad blockers

Wikia is not accessible if you've made further modifications. Remove the custom ad blocker rule(s) and the page will load as expected.