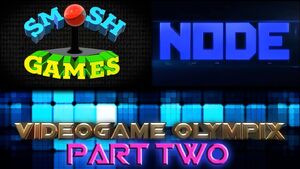 Smosh Games Node Video Game Olympix - Part 2 is the second part of the Video Game Olympix between Smosh Games and Node, it was uploaded to NODE's channel on Friday, May 10th, 2013 at around 15:30 PDT (part 1 was uploaded to Smosh Games as the 33rd Game Bang 30 minutes earlier).
Teams
Super Sausage Fiesta Turbo

Sam (captain)
Ian
Niko
Mari
Chad
Joven

Sausage Fiesta

Anthony (captain)
Flitz
Sohinki
Freddie
Lasercorn
Brandon
Round 3 - Halo 4
Super Sausage Fiesta Turbo
Sausage Fiesta
Winners: Sausage Fiesta
Round 4 - Mario Kart 64
Super Sausage Fiesta Turbo
Sausage Fiesta
Game 1
Game 2
Game 3
Game 4
Game 5
Game 6
Results
Sausage Fiesta: 3 and a half points
Super Sausage Fiesta Turbo: 2 and a half points
Winner: Sausage Fiesta
Ad blocker interference detected!
Wikia is a free-to-use site that makes money from advertising. We have a modified experience for viewers using ad blockers

Wikia is not accessible if you've made further modifications. Remove the custom ad blocker rule(s) and the page will load as expected.