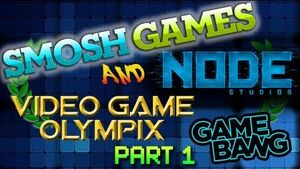 Smosh Games Node Video Game Olympix - Part 1 is the thirty-third installment for the SmoshGames series Smosh Game Bang.
It was uploaded on May 10th, 2013 on both smosh.com and YouTube.
Synopsis
It's a two-part collaboration video with Lan Party. Mixed teams battle in four games: Super Smash Bros. Brawl, Just Dance 4, Halo 4 and Mario Kart 64. (all of them played previously in Game Bang)
Second part of the video can be watched on Node's channel.
Teams
Super Sausage Fiesta Turbo

Sam (captain)
Ian
Niko
Mari
Chad
Joven
Sausage Fiesta

Anthony (captain)
Flitz
Sohinki
Freddie
Lasercorn
Brandon
Round 1 - Super Smash Bros. Brawl
Characters used
Brandon - Pikachu
Anthony - Luigi
Sam - Ike
Joven - Ike
Results
Anthony defeated first
Brandon defeated second
Winner: Super Sausage Fiesta Turbo
Round 2 - Just Dance 4
Mari vs Flitz (Justin Bieber ft. Nicki Minaj - Beauty and a Beat)
Mari - 6,746
Flitz - 9,883
Chad vs Sohinki (Stevie Wonder - Superstition)
Chad - 10,680
Sohinki - 11,315
Final results
Team Super Sausage Fiesta Turbo - 17,326
Team Sausage Fiesta - 21,198
Winner: Sausage Fiesta
Trivia
This is so far the only Game Bang to not include a punishment.

Neither did the second part uploaded on Node's channel. There were only prizes for the winners. (Something that never happened in a Game Bang either)

Information for part 2 can be found here
Ad blocker interference detected!
Wikia is a free-to-use site that makes money from advertising. We have a modified experience for viewers using ad blockers

Wikia is not accessible if you've made further modifications. Remove the custom ad blocker rule(s) and the page will load as expected.