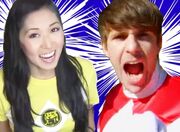 Smosh Become the Power Rangers! 
is the 151st episode in the 
IanH
 series 
Smosh Pit Weekly
. 
Featured Articles
Grand Theft Auto 5: 5 Best Distractions From Actually Commiting Crimes
Norwegian Metal Singer Does ALL POWER RANGERS THEME SONGS
Mari's Questions
What color Power Ranger would you be?
If you could live in any video game, which would you live in?
If you could have 150 of anything, what would they be?
4. You Rock! Thanks for everything! This is not a question.
Q&A
Does this look delish? "SWEET MOTHER OF.."
Do you think twerking is good for humanity? no, it is the worst thing in the entire universe.
Ad blocker interference detected!
Wikia is a free-to-use site that makes money from advertising. We have a modified experience for viewers using ad blockers

Wikia is not accessible if you've made further modifications. Remove the custom ad blocker rule(s) and the page will load as expected.