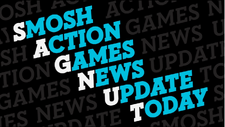 Smosh Action Game News Update Today, abbreviated S.A.G.N.U.T.(The statement read that SAG NUT), was a show that aired on Smosh Games every Wednesday. This show came out with Gametime with Smosh, and was the first show to air on Smosh Games.
The last episode was the E3 Special. Jovenshire later tweeted that the show was cancelled due to low ratings and too many networks already dedicated to video game news (IGN, Machinima, The Escapist, etc.) It was replaced by Cage Match Challenge.
Videos
References
Ad blocker interference detected!
Wikia is a free-to-use site that makes money from advertising. We have a modified experience for viewers using ad blockers

Wikia is not accessible if you've made further modifications. Remove the custom ad blocker rule(s) and the page will load as expected.