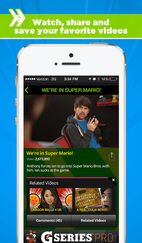 Smosh - The Official App, nicknamed Sweet Mobile Online Smosh Hub at first, is the official app for the Smosh website released August 10, 2013. It was created and is updated by Defy Media, LLC. The app is available on App Store and Google Play for free.
The App's Functions
The app is the mobile verison of the main website, making more convenient for mobile users to access smosh.com. Users can also access their Smosh user accounts.
Trivia
The app is rarely updated and hasn't been updated since August of 2015.