Smosh.com is the Smosh database, where people can view all Smosh episodes, exclusive content from videos, and private videos that were never uploaded onto YouTube. It also has a Merch page, where fans can buy Smosh merchandise, such as shirts, sweatpants, posters, or wristbands. It features the Smosh Pit, which allows full access to News regarding Smosh and other entertainment media around the world. There is also a Music page where Smosh's music can be purchased from iTunes, Google Play or Amazon.
How it was made
Many say that the coding looks in a way they used Adobe Dreamweaver to make their website. Also it was because Anthony needed money and therefore he made the Smosh Website.
Website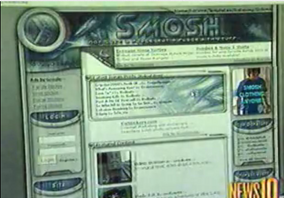 Old website
Smosh.com first started in November 2002 as flash movie and social networking place for Ian, Anthony, and their friends, where they would just chat about normal things as said in an interview with PartnersProject. The selections were blue ovals. The "Extras" videos section were separated with the normal "Videos" section. The website also included a forum and a store. There were no games at the time, though.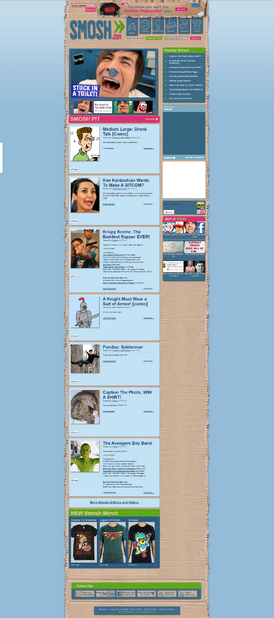 The URL of the website is same, but the website design changed a lot. It use to look like paint on cardboard, like the Smosh intro. There used to be a "Games" section but within this website change, an "Extras" section was added in the "Videos" section. The forum and store are still active nowadays. A new feature called Smosh Pit was also added to the website.
Current website
(2013-present)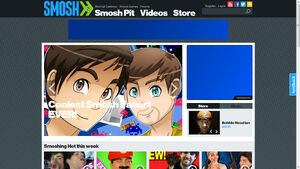 On January 22 and 23, 2013, around the time of That Damn Movie!, Smosh.com was given a complete website re-design. The URL is still the same (Smosh.com) but the cardboard theme was dropped with more simple clean layout. A new area self-titled Shut Up! Cartoons and Smosh Games were added to the new website. The forum and store are still part of the website. After a week they changed the Background to the Cardboard layout but everything else stayed. On March 26, this version was restored.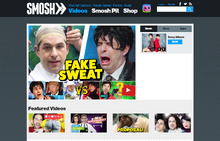 In 2015 a Music page was added. A small box was also added where fans can choose to look at, "Music", "Shop" or "App" quickly.
Gallery