Since the creation of their channel in November, 2005 and their rise to popularity with the Pokemon Theme Music Video, Smosh had amassed over 21 million subscribers and over five billion views. With YouTube running with many ads now, Smosh has been the target for ads, Smosh has gained much net worth over it's ten year life span, creating many things as well to help gain money for Smosh and its affliated channels.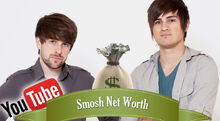 Products of Smosh
One Feature Film
One Paid Mobile App
Two Mobile Video Games
Five Music Albums
A Large Assortment of Merchandise Through an Online Store (clothing, bobble heads, cell phone cases, etc.)
Net worth as of 2015 - eight and a half million dollars
Ad blocker interference detected!
Wikia is a free-to-use site that makes money from advertising. We have a modified experience for viewers using ad blockers

Wikia is not accessible if you've made further modifications. Remove the custom ad blocker rule(s) and the page will load as expected.