Smeagol Loves the Precious is a Smosh short uploaded on April 9, 2010. In this episode, Smeagol wants to show everyone "the precious."
Plot
Smeagol (Anthony) wants to show everyone the precious and share it with everyone, but Gollum (Also Anthony) doesn't want him to show anyone the precious. But Smeagol loves the precious and wants everyone to see it. Gollum reminds Smeagol that "when [Smeagol] go inside, people are like 'Oh, look at that little obango kid.'" Smeagol is not deterred by the haters and wants to show everyone the precious. Gollum tries to convince Smeagol to hide the precious, thinking that nobody can "handle the darkness of the precious." At the end, it turns out they are talking about the movie "The Precious." Smeagol says that they have seen it six times and it still makes them cry.
Credits
Smeagol/Gollum: Anthony Padilla
Bald scalp provided by: Some dead guy
Palindromes by : Racecar
Viewed by: you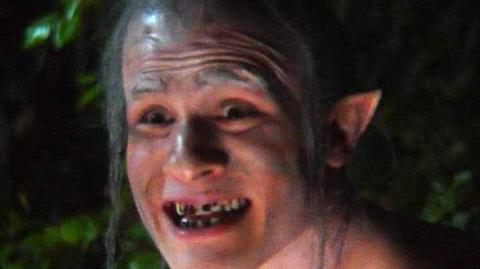 Trivia/Goofs
This is the only Smosh episode where Ian is not seen at all. Anthony is by himself in this video
This is the first Smosh short for nearly 4 years
Ad blocker interference detected!
Wikia is a free-to-use site that makes money from advertising. We have a modified experience for viewers using ad blockers

Wikia is not accessible if you've made further modifications. Remove the custom ad blocker rule(s) and the page will load as expected.