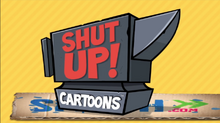 Shut Up! Cartoons Teaser is the teaser trailer for the Shut Up! Cartoons channel cartoons. It was posted April 12, 2012.
Video Description:
Because the real world couldn't handle this much awesome, we at Smosh decided to make some cartoons. So Shut Up! and watch them. And then watch them again because they are much funnier the second time.  
Shut Up! Cartoons premieres on April 30th, 2012. Catch new episodes on Shut Up! Cartoons every Monday, Wednesday, and Friday! 
Series in Video
These are the series that appear in the teaser.
In order:
Non-included series 
Ad blocker interference detected!
Wikia is a free-to-use site that makes money from advertising. We have a modified experience for viewers using ad blockers

Wikia is not accessible if you've made further modifications. Remove the custom ad blocker rule(s) and the page will load as expected.