Shayne Topp or Shayne Stopp



Name:

Shayne Robert Topp

Date of Birth:

September 14, 1991 (age 26)

Nationality:

American

Height:

5' 10" (1.78 m.)

Twitter:

Vine:

Instagram:

YouTube: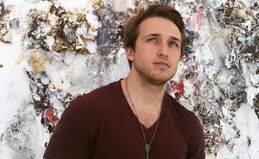 Shayne Robert Topp (born September 14, 1991) is an American actor and regular Smosh cast member. He made his first appearance in the Smosh Summer Games as part of the race committee. He made his first Friday episode appearance in EVERY SNAPCHAT EVER. In Hand Bomb, when he was introduced into the Smosh family and it was revealed he was an actor from Disney's So Random! where he played recurring character Shayne Zabo and a bird-man in one episode. Outside of Smosh, he has played one-appearance roles in various Nickelodeon shows. More recently, he has had a recurring role on the television show, The Goldbergs. He was one of the five and the last new regular cast member to
TV Series
Switched at Birth, season 4, episode 3 "I Lock the Door Upon Myself" - Taylor Halsted
iCarly, episode "iMight Switch Schools" - Philip Brownley
Sam and Cat, episode "#StuckInABox" - Vance Anderson
Fred: The Show, episode "The Expired Cow" - Steve the Talking Cookie
Love Bites, episode "Too Much Information" - Ian
So Random! - Shayne Zabo
AwesomenessTV, sketch "Swag Master J: Swagify for School" - Various
Henry Danger, episode "Captain Jerk" - Dennis
The Goldbergs, - Matt Bradley
Movies/Short Films
"A Sort Of Homecoming" - Dylan Conti (which also starred Laura Marano)
"Moonpie" - John Paul
"All Kids Count" - Cory
"First" - Rick
"Dear Lemon Lima" - Phillip Gregory
"Hi, Lillian" - Dylan
"Re-Writes"
"Boys On Film 14: Worlds Collide", segment "The Violation" - Oscar Heim
YouTube
"Astrid Clover" - Cop with Taser (made by Allisyn Ashley Arm, former So Random! co-star)
"What's Next for Sarah?", episode 2 - Chad (made by Jennette McCurdy)
YouTubers React to Make-A-Wish (Wishes to children with life-threatening illnesses) (with cast member Courtney Miller)
Trivia
Shayne won the Jury Prize at the 2009 Los Angeles Film Festival for his performance in "Dear Lemon Lima".
He was also nominated at the 2014 Young Hollywood Awards for the "Exciting New Face - Male" award for is performance in the same film.
Shayne voiced the Zucchini during the Food Battle X voting.
It's highly suggested that in 'DARK SOULS IMPOSSIBLE STRUGGLE', he plays the Dark Souls series, as Shayne said his own character was a lot higher when he faced the Crystal Lizard.
Commonly regarded by fans as one of the hottest guys on Smosh, next to Anthony and now be the hottest guy since Anthony's departure.
Before Smosh, he knew Noah Grossman, (fellow Smosh Squad member) as they both went to the Laura Marano's mom's (ie. Ellen Marano's) acting class.
As he couldn't find much work in Los Angeles, he was about to move away but was convinced by Noah to stay and do the Smosh audition.
He has proven many times to be excellent at impersonations and accents. He gains particular praise for his Christopher Walken, Tom Cruise, Chris Hemsworth, Nicholas Cage and Michael Caine impressions.
He, along with many other members of Smosh, is a Game of Thrones fan.
One of Shayne's favorite TV shows is "Once Upon A Time". He said "I really like the story of the show, it makes me feel like I am in the scene which is important to me."
Shayne lived in Woodbridge, Virginia in his childhood, with his mother and older half-brothers.
Shayne and Smosh Games member Damien Haas both acted together on So Random! and are good friends. In BTS video BEST POKEMON ATTACKS it's suggested that they are best friends since primary or middle school. Also, in one of Smosh Games Livestreams, MONOPOLY RUINS OUR FRIENDSHIP, it is said that these two were roommates in the past.
In DAMIEN & SHAYNE TRAPPED IN NIGHTMARE SKYRIM and while roommates with Damien, Shayne accidentally broke a PS3 controller in half from playing Skyrim and didn't tell Damien.
Many fans want to see Courtney Miller and him in a relationship. They are shipped a lot by fans, being referring to as "Shourtney/Shortney".
Ad blocker interference detected!
Wikia is a free-to-use site that makes money from advertising. We have a modified experience for viewers using ad blockers

Wikia is not accessible if you've made further modifications. Remove the custom ad blocker rule(s) and the page will load as expected.