Sexy Pole Dance Lessons! (Squad Vlogs - Field Trip) is the third Squad Vlogs video. It was released December 10, 2015. In this vlog, the Smosh Squad goes out and learns how to pole dance.
Conclusion
It is shown that Shayne is the best pole dancer.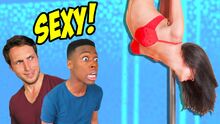 Ad blocker interference detected!
Wikia is a free-to-use site that makes money from advertising. We have a modified experience for viewers using ad blockers

Wikia is not accessible if you've made further modifications. Remove the custom ad blocker rule(s) and the page will load as expected.