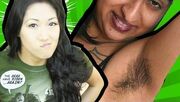 "Sexxy Fail Countdown" is the 36th installment for Smosh Pit Weekly.
Featured Articles
Greatest Wins of March-April 2011
God is Doin' It - Rapping for Jesus
24 Sexy Fails
Worst Comic Book Fails Ever
Le Internet Medley (Over 40 Memes in One Song)
Q&A
What do you want for Christmas? A lazy day, light cycle, 4S, and a Gameboy swimsuit.
Ad blocker interference detected!
Wikia is a free-to-use site that makes money from advertising. We have a modified experience for viewers using ad blockers

Wikia is not accessible if you've made further modifications. Remove the custom ad blocker rule(s) and the page will load as expected.