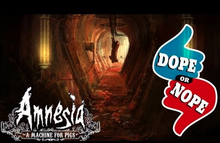 Screaming Like Bitches is the fifty-first installment for the SmoshGames series Dope! or Nope. They are superficially judging Amnesia: Machine for Pigs.
Dope
Inclusion of children
Atmosphere
Similar controls to its predecessor
Enabled controller support
Musicbox ambience
Rat toys
Suspense
Atmosphere (again)
Radio's resemblance to a robot
Observation room for watching people bathe
Overall setting
Nope
The ball
Joven's accents
His hope for the victims to have died in the bathroom
Attitude towards the seclusion
Synopsis
In today's Dope! or Nope, the Jovenshire shows off his paranormal investigation skills with Amnesia: Machine for Pigs. But even though his skills are a little rusty, there is no need to worry because Sohinki is there to keep him on track. How does the game compare to the real world of Ghost Hunting? Watch to find out.
Screenshots
Video
Ad blocker interference detected!
Wikia is a free-to-use site that makes money from advertising. We have a modified experience for viewers using ad blockers

Wikia is not accessible if you've made further modifications. Remove the custom ad blocker rule(s) and the page will load as expected.