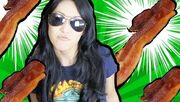 Rub Me with Sum Bacon, Yo!
is the fifty-ninth installment for the
IanH
series
Smosh Pit Weekly
.
Featured Articles
Epic Paintball Battle
Rub Some Bacon On It [music video]
Mari's Questions
Do you like or hate eating the bacon?
Would you eat a bacon-covered earthworm for $100?
Does the word 'angina' make you laugh?
You're stuck in a cave for 1 week. Choose one to have with you: A.Best Freind  B.Beer  C.Bacon
Q&A
What's the name of your cat? Nike
When is your birthday? November 2
Ad blocker interference detected!
Wikia is a free-to-use site that makes money from advertising. We have a modified experience for viewers using ad blockers

Wikia is not accessible if you've made further modifications. Remove the custom ad blocker rule(s) and the page will load as expected.