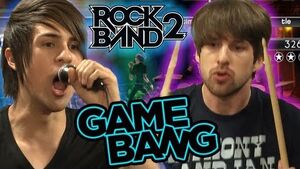 Rock Band Rocks! is the forty-second installment for the SmoshGames series Smosh Game Bang.
It was uploaded on July 5, 2013 on smosh.com and on July 12, 2013 on YouTube.
Synopsis
The gang Rock out and play Rock Band 2.
Punishment
The person with the lowest overall score would have to wear a rock band outfit, play the drums alone, and sing to "We Got the Beat" by The Go-Go's.
Round 1
Band Name: The Lazy Hookers, Song: Survivor - Eye of the Tiger
Round 2
Band Name: The Boner Farts, Song: Lit - My Own Worst Enemy
Vocals: Sohinki (100%)
Guitar: Jovenshire (81%)
Drums: Ian (94%)
Bass: Anthony (92%)
Round 3
Band Name: The Oompa Loompa Rejects, Song: Duran Duran - Hungry Like the Wolf
Vocals: Jovenshire (37%)
Guitar: Mari (60%)
Drums: Anthony (75%)
Bass: Lasercorn (92%)
Round 4
Band Name: The Bald Midget Camel Toes, Song: Paramore - That's What You Get
Vocals: Anthony (76%)
Guitar: Ian (84%)
Drums: Lasercorn (61%)
Bass: Mari (85%)
Round 5
Band Name: Anthony's Mom is Promiscuous, Song: The Beastie Boys - So What'cha Want
Vocals: Lasercorn (100%)
Guitar: Anthony (95%)
Drums: Mari (89%)
Bass: Sohinki (100%)
Round 6
Band Name: Period., Song: Interpol - PDA
Vocals: Ian (78%)
Guitar: Lasercorn (88%)
Drums: Sohinki (96%)
Bass: Jovenshire (88%)
Final score
1st place: Sohinki - 386
2nd place: Ian - 348
3rd place: Lasercorn - 341
4th place: Anthony - 338
5th place: Mari - 329
Last place: Jovenshire - 258
Punishment Round
Band Name: Off Beat Forever Alone, Song: The Go-Go's - We Got the Beat
Drums: Jovenshire (60%)
Vocals: Jovenshire (32%)
Trivia
Sohinki states in this episode that his mom watches Smosh Game Bang sometimes.
At the start of the episode, The gang are talking in (very bad) British West Midlands accents. This is most likely an impersonation of Ozzy Osbourne from Black Sabbath.