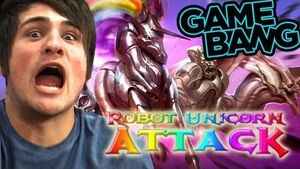 Robot Unicorn Tattoos is the forty-fifth installment for the Smosh Games series Smosh Game Bang.
It was uploaded on July 26, 2013 on smosh.com and on August 2nd, 2013 on YouTube.
Synopsis
The gang get together to play Robot Unicorn Attack, which is (jokingly) referred to as a plagarism of Lasercorn's tattoo.
Punishment
The person with the lowest score would have to get a tramp stamp tattoo drawn in permanent marker of Lasercorn's nuke-shooting, laser-horned Unicorn.
Turn order
Lasercorn
Jovenshire
Anthony
Mari
Sohinki
Scores
1st place: Sohinki - 14,834
2nd place: Ian - 11,038
3rd place: Lasercorn - 10,250
4th place: Jovenshire - 9,436
5th place: Anthony - 7,490
Last place: Mari - 4,846
Trivia
This is the second Game Bang where the turn order moved anti-clockwise instead of the usual clockwise.
Ian stated that he was the worst at platformer games but ended up getting the 2nd highest score.
Ad blocker interference detected!
Wikia is a free-to-use site that makes money from advertising. We have a modified experience for viewers using ad blockers

Wikia is not accessible if you've made further modifications. Remove the custom ad blocker rule(s) and the page will load as expected.