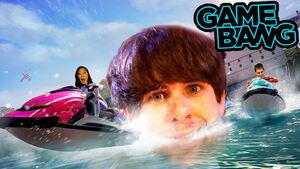 Riding Each Other Like Jet Skis is the sixty-ninth installment of the Smosh Games series Smosh Game Bang.
It was uploaded on January 17, 2014 on both smosh.com and YouTube.
Synopsis
The Smosh Games crew play Kinect Sports Rivals in two-member teams playing as one player.
Punishment
Members of losing team will have to race against each other while the others will throw water at them to make it realistic.
Results
Marhinki vs Antcorn
Trivia
This is second time Game Bang ended as a draw but the first time that other "losers" didn't have to take the punishment (everyone lost but only team Jovian had to take part in the punishment race).

Although the official result was a draw, it was decided that Ian and Joven would do the punishment as team Antcorn and team Marhinki finished 2nd in both their winning races whereas team Jovian finished 6th.

This was Jovenshire's 6th consecutive loss since 3D Mario Bang, this losing streak is only 1 behind Mari's losing streak of 7 (the longest so far), By this point he was 2 away from beating hers but the streak was broken in the following episode.