Ray William Johnson



Name:

Ray William Johnson

Date of Birth:

August 14, 1981 (age 36)

Nationality:

American

Gender:

Male

YouTube Channel:

Years Active:

2008-present
Ray William Johnson (born August 14, 1981) was an American YouTuber, now primarily a Facebook and Instagram video personality, who is most known for being the the most subscribed YouTuber from June 25, 2011 to January 12, 2013 until Smosh surpassed him to become the #1 most subscribed channel for a third time.
Smosh's Appearances in RWJ
I Will End You!: A clip from one of Smosh's videos (Unitarded) is shown.
How Not to Dance: They appear in a drawing made by Ray.
RWJ vs. Smosh: They co-host and make fun of the show.
Appearances in Smosh
Screenshots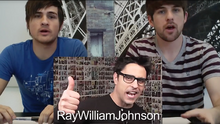 Ad blocker interference detected!
Wikia is a free-to-use site that makes money from advertising. We have a modified experience for viewers using ad blockers

Wikia is not accessible if you've made further modifications. Remove the custom ad blocker rule(s) and the page will load as expected.