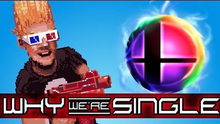 Power Up! is the forty-sixth installment for the SmoshGames series Why We're Single.
Description:
Today we talk about our favorite power-ups in videogames. Sohinki would like to note that he forgot the power-up in Altered Beast. It's why he's single...
Video
http://www.youtube.com/watch?v=bch6U0EDMT0
Ad blocker interference detected!
Wikia is a free-to-use site that makes money from advertising. We have a modified experience for viewers using ad blockers

Wikia is not accessible if you've made further modifications. Remove the custom ad blocker rule(s) and the page will load as expected.