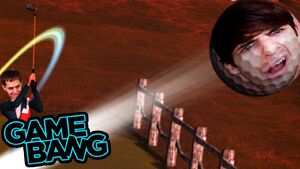 Power Stroke That B*tch! is the sixty-fifth installment of the Smosh Games series Smosh Game Bang.
It was uploaded on 20th December 2013 on both smosh.com and YouTube.
Synopsis
The Smosh Games crew play PowerStar Golf in two-player teams. To make the game more interesting, every player has to spin around 5 times before their turn.
Punishment
One member of the losing team would become a human golf club and another would be the golf player swinging the club.
Teams
Anthony and Mari - Anthari
Jovenshire and Ian - Jovian
Sohinki and Lasercorn - Socorni
Results
First Round
Team Socorni - Bogey
Team Anthari - Triple Bogey
Team Jovian - Triple Bogey
Second Round
Team Socorni - Par
Team Anthari - Double Bogey
Team Jovian - Triple Bogey
Final Results
Team Socorni (1 over par)
Team Anthari (5 over par)
Team Jovian (6 over par)
Trivia
This was the fifth appearance of Ian and Jovenshire as a team, but the first time they called themselves "Jovian" instead of "Ianshire".

This is also their 5th loss as a 2 player team

During one of Anthony's spins, Ian, Sohinki, Lasercorn and Jovenshire proceed to sing Dead or Alive's 1984 hit "You Spin Me Round (Like a Record)"
During one of Sohinki's last spins, he leaned back too much and ended up wiping out on the floor.
Ad blocker interference detected!
Wikia is a free-to-use site that makes money from advertising. We have a modified experience for viewers using ad blockers

Wikia is not accessible if you've made further modifications. Remove the custom ad blocker rule(s) and the page will load as expected.