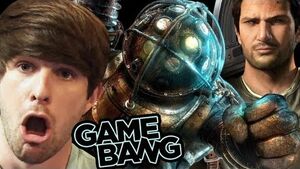 PlayStation Smash Bros is the thirteenth episode of the Smosh Games series Smosh Game Bang.
It was uploaded on December 21, 2012 on both smosh.com and YouTube.
Synopsis
The Smosh Games gang play Playstation All-Stars Battle Royale.
Punishment
Due to the fact that none of the characters go together at all, the loser(s) have to eat a selection of foods that don't go together at all.
Characters used
Anthony: Parappa the Rapper (PaRappa the Rapper)
Ian: Radec (Killzone)
Jovenshire: Nathan Drake (Uncharted)
Lasercorn: Jak (Jak and Daxter)
Mari: Fat Princess (Fat Princess)
Sohinki: Big Daddy (Bioshock)
Battles
1st place: 3 points, 2nd place: 2 points, 3rd place: 1 point, 4th place: 0 points
Note: Players are listed below in seat order moving clockwise from bottom left
Round 1
Players
Ian, Sohinki, Lasercorn and Jovenshire
Scores
Lasercorn
Ian
Sohinki
Jovenshire
Round 2
Players
Mari, Ian, Jovenshire and Anthony
Scores
Jovenshire
Anthony
Ian
Mari
Round 3
Players
Lasercorn, Anthony, Mari and Sohinki
Scores
Anthony
Lasercorn
Mari
Sohinki
Results
Joint 1st place: Anthony and Lasercorn (5 points each)
Joint 2nd place: Ian and Jovenshire (3 points each)
Joint Last place: Sohinki and Mari (1 point each)
Game Bang Achievements
Trivia
Joven repeats his mine joke from We've Got Worms in which he ends up embarrassing himself.
This is where Sohinki's second slap on Joven occured.
During Round 2, at some point, everyone runs away from Radec (Ian) due to the fact that Radec is both scary (Anthony's reason) and is from Killzone (Lasercorn's reason).
Anthony and Mari both refer to Fat Princess as Honey Boo Boo.
Joven refers to Nathan Drake as a handsome character of him
Sohinki and Lasercorn had played this on Dope! or Nope video Playstation All-Stars Beta.