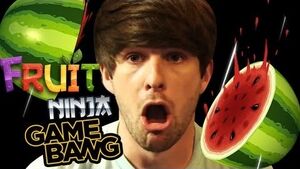 Pineapple B0nerkill is the twenty-first installment of the Smosh Games series Smosh Game Bang.
It was uploaded on February 15, 2013 on both smosh.com and YouTube.
Synopsis
The Smosh Games crew play Fruit Ninja Kinect.
Punishment
The 2 people with the lowest scores would have to eat a banana together à la Lady in the Tramp.
Turn order
Note: Bold scores indicate a personal best score, Bold/Italic scores indicate an overall best score (this also includes initial scores, pomegranate hits and bonus points).
Anthony

Game 1: 201 (110+31 pomegranate hits+60 bonus points)
Game 2: 240 (175+35 pomegranate hits+30 bonus points)
Game 3: 305 (189+41 pomegranate hits+75 bonus points)

Lasercorn

Game 1: 258 (195+38 pomegranate hits+25 bonus points)
Game 2: 262 (170+12 pomegranate hits+80 bonus points)
Game 3: 221 (170+36 pomegranate hits+15 bonus points)

Mari

Game 1: 332 (286+21 pomegranate hits+25 bonus points)
Game 2: 201 (73+43 pomegranate hits+85 bonus points)
Game 3: 291 (240+26 pomegranate hits+25 bonus points)

Joven

Game 1: 178 (95+43 pomegranate hits+40 bonus points)
Game 2: 277 (155+57 pomegranate hits+65 bonus points)
Game 3: 233 (173+60 bonus points)

Ian

Game 1: 287 (180+47 pomegranate hits+60 bonus points)
Game 2: 191 (98+33 pomegranate hits+60 bonus points)
Game 3: 245 (126+44 pomegranate hits+75 bonus points)

Sohinki

416 (333+43 pomegranate hits+40 bonus points)
Scores
1st place: Sohinki (416)
2nd place: Mari (332)
3rd place: Anthony (305)
4th place: Ian (287)
5th place: Jovenshire (277)
Last place: Lasercorn (262)
Trivia
This is the first Game Bang where the turn order moved counterclockwise instead of the usual Clockwise.
There was a replay of part of the punishment from Hedgehog Kombat (Anthony and Mari "Lady & the Tramp-ing" a chilli dog).
Anthony initially predicted that it would be Jovenshire and Lasercorn doing the punishment and was soon correct.

Although he then ended up changing his mind by thinking it would be either Ian and Lasercorn or Jovenshire and Ian