Pamela Horton



Name:

Pamela Horton

Date of Birth:

May 4, 1988 (age 29)

Sex:

Female

YouTube Channel:

Partner:
Pamela Horton (born May 4, 1988), is Ian Hecox's current girlfriend. They started dating on September 11, 2015. They first met on Playboy's SDCC SELF/LESS Party, which was a party that Pam invited Ian to. She has said that she invited Ian because of brand purpose on her personal channel.
On April 8, 2016, Ian formally introduced Pamela as his girlfriend with an Instagram photo and descriptive caption, declaring her the love of his life.
Fan Reaction
She has sometimes been subject to fans berating her for either taking Ian away from Anthony during his time on the channel or being with Ian in lieu of the fans being with Ian themselves or even because she is not Ian's ex-girlfriend,
Melanie Moat
. This allegedly led to Ian making a textual Instagram post requesting that fans be kinder to the women in his life.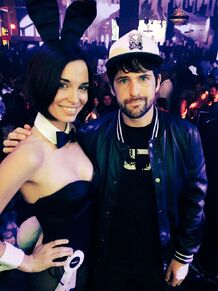 Trivia
The portmanteau of her and Ian is "

Pian

".

Pam has met the members of Smosh Games and has collaborated with them on her channel. She spent the 2016 Comic Con weekend with Joven, Wes, Flitz, Lasercorn, Sohinki, and Matt Raub as Joven tried to make breakfast for them.
Ian and Pamela were on a YouTube Couples React video on the Fine Brothers YouTube channel together.
Pam is now a founding member of the channel ToasterGhost, along with Lasercorn, Sohinki, and Amie Lynn.
Sohinki has seen her breasts.
Pam has a cat named Moose.
She is a former Playmate for Playboy. The day of Hugh Hefner's death, she left a heartfelt message towards him via Instagram.
Ad blocker interference detected!
Wikia is a free-to-use site that makes money from advertising. We have a modified experience for viewers using ad blockers

Wikia is not accessible if you've made further modifications. Remove the custom ad blocker rule(s) and the page will load as expected.