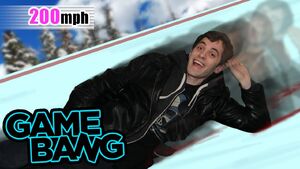 Our Bodies are Luges is the ninetieth installment of the Smosh Games series Smosh Game Bang.
It was uploaded on June 13th, 2014 on both smosh.com and YouTube.
Synopsis
The Smosh Games crew play the Luge mode of Wii Fit U
Punishment
The two lowest scorers will have to do the course together with one person lying on top of the other.
Turn order
Sohinki
Lasercorn
Ian
Jovenshire
Mari
Anthony
Scores
1st place: Ian (2:01)
2nd place: Anthony (2:06)
3rd place: Mari (2:07)
4th place: Sohinki (2:18)
5th place: Jovenshire (2:37)
Last place: Lasercorn (2:49)
Trivia
This is the first time a category of games has been played more than three times consecutively (Nintendo games in this case)
It's Ian's first individual win since The King Of Pop Would Be Proud on 7th June 2013. It's the longest gap between individual wins in the history of Smosh Game Bang.