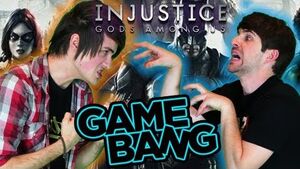 Oh The Injustice! is the forty-third installment for the Smosh Games series Smosh Game Bang.
It was uploaded on 12th July 2013 on smosh.com and on July 19th, 2013 on YouTube.
Synopsis
The Smosh Games crew have an all-out battle in a game of Injustice: Gods Among Us.
Punishment
The two lowest scoring people would have to act out a date scenario as Batman and Wonderwoman.
Characters played
Anthony - The Flash
Ian - The Joker
Jovenshire - Batman
Lasercorn - Green Lantern
Mari - Deathstroke
Sohinki - Solomon Grundy
Battles
Round 1
Mari vs. Lasercorn
Sohinki vs. Jovenshire
Ian vs. Lasercorn
Mari vs. Anthony
Jovenshire vs. Lasercorn
Round 2
Sohinki vs. Ian
Jovenshire vs. Anthony
Sohinki vs. Lasercorn
Anthony vs. Ian
Sohinki vs. Mari
Round 3
Ian vs. Mari
Anthony vs. Sohinki
Jovenshire vs. Mari
Anthony vs. Lasercorn
Jovenshire vs. Ian
Results
1st place: Jovenshire (5W-0L)
=2nd place: Anthony (3W-2L)
=2nd place: Lasercorn (3W-2L)
=2nd place: Sohinki (3W-2L)
5th: Mari (1W-4L)
Last: Ian (0W-5L)
Trivia
This is the last episode filmed in the original Smosh Games studio in which the door is on the camera's left and the shelf is on the right, from the next Game Bang, Smosh Games moved to a new studio, in which the shelf is on the left and the doorway is out of shot on the right.
Despite Sohinki and Lasercorn trying to stop Jovenshire winning his final match, this tactic would have been futile even if it succeeded because he would have still won regardless with 4 wins.
This was the 2nd Game Bang where Anthony, Ian, and Mari played a certain game for the 1st time.
Jovenshire and Sohinki had previously played this in the Dope! or Nope video Batman Kicks Ass, Smosh Games VS video Injustice Noobs Among Us and later played this in the Cage Match Challenge video Injustice Eggs Among Us.
This was the 3rd video where there was a 3 way tie

It is also the second time that 3 people tied for second (Anthony, Lasercorn, and Sohinki tied for second with 3 wins and 2 losses).
Ad blocker interference detected!
Wikia is a free-to-use site that makes money from advertising. We have a modified experience for viewers using ad blockers

Wikia is not accessible if you've made further modifications. Remove the custom ad blocker rule(s) and the page will load as expected.