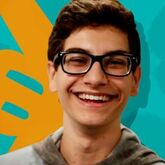 Noah Grossman (originally named SmoshNoah), is the personal channel of cast member Noah Grossman. It was created Feburary 19, 2015. Since its creation, the channel has had two videos uploaded. The first one titled "Virtual Date With Noah Grossman" and the most recent being "Noah Grossman and DiaperHead take over LIVE".
Ad blocker interference detected!
Wikia is a free-to-use site that makes money from advertising. We have a modified experience for viewers using ad blockers

Wikia is not accessible if you've made further modifications. Remove the custom ad blocker rule(s) and the page will load as expected.