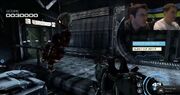 No Easy Way to Rage
 is the fifty-second installment for the 
SmoshGames
 series 
Dope! or Nope
. They are judging
Alien Rage
. 
Dope
No easy mode
Nice graphics in the cutscenes
Intuitive controls
Enemies (realistically) die fast
Fire ammo
Challenging gameplay
Death animations
Exploding a grenade in mid-air
Nope
Stilted frame rate
The dialogue
Enemies remains floating in place
Corny dialogue
Final Verdict
(as solid as 15 minutes or so of a game can be judged)
It is a Nope because there was nothing seen that could separate it from other FPS's. 
Video
Ad blocker interference detected!
Wikia is a free-to-use site that makes money from advertising. We have a modified experience for viewers using ad blockers

Wikia is not accessible if you've made further modifications. Remove the custom ad blocker rule(s) and the page will load as expected.