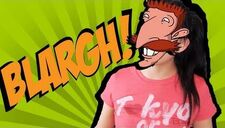 Nigel Thornberry Attacks!
is the eleventh installment for the
IanH
series
Smosh Pit Weekly
.
Featured Articles
21 Best Nigel Thornberry Memes!
20 Hilarious Crime Blotters
Fail Compilation June 2011
Producers are Looking for the "Next Rebecca Black"
Q&A
Can you do an entire video in Japanese with subtitles?
She wouldn't for the sake of not upsetting people.
Ad blocker interference detected!
Wikia is a free-to-use site that makes money from advertising. We have a modified experience for viewers using ad blockers

Wikia is not accessible if you've made further modifications. Remove the custom ad blocker rule(s) and the page will load as expected.