New Smosh Games Members? is the 102nd installment of the Smosh Games series I Have a Raging Bonus.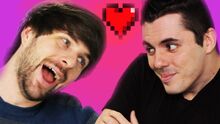 Synopsis
In this video celebrating 2 years of Smosh Games, Flitz and Wes are initiated as full members of the Smosh Games crew, the initiation ceremony being a fan fiction reading.
Trivia
This video also celebrates the fact that Smosh Games hit 5 million subscribers and 1 billion views.
Ad blocker interference detected!
Wikia is a free-to-use site that makes money from advertising. We have a modified experience for viewers using ad blockers

Wikia is not accessible if you've made further modifications. Remove the custom ad blocker rule(s) and the page will load as expected.