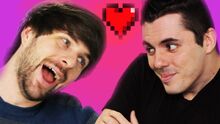 New Smosh Games Members?
is the 102nd installment of the
Smosh Games
series
I Have a Raging Bonus
.
Synopsis
In this video celebrating 2 years of Smosh Games, Flitz and Wes are initiated as full members of the Smosh Games crew, the initiation ceremony being a fan fiction reading.
Trivia
This video also celebrates the fact that Smosh Games hit 5 million subscribers and 1 billion views.