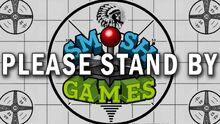 In this short video, Lasercorn, Jovenshire, and Sohinki explained why the next episode of Backseat Gaming was uploaded a day late. Since they wanted to play the Titanfall Beta for the next installment, they had to wait until the next day for copyright reasons put forward by the game's publishers. 
Video description:
We have a very special announcement for you regarding today's episode of Backseat Gaming. You will not want to miss this exciting information. Stay tuned.
Screenshots
Video
Ad blocker interference detected!
Wikia is a free-to-use site that makes money from advertising. We have a modified experience for viewers using ad blockers

Wikia is not accessible if you've made further modifications. Remove the custom ad blocker rule(s) and the page will load as expected.