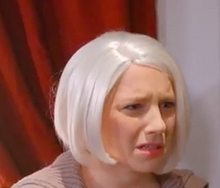 Mr. Frizzle's Girlfriend
is a one-appearance character featured in the video
Adult Magic School Bus
. The character is portrayed by
Courtney Miller
.
Character biography
Mr. Frizzle began dating her after he divorced his wife, Ms. Frizzle. Ms. Frizzle was jealous of her husband dating another woman and referred to her as Mr. Frizzle's tampon. When she and Mr. Frizzle returned home one day, they found out that Ms. Frizzle is getting all her 'stuffs' out of the house. Mr. Frizzle threatens to call the cops and Ms. Frizzle and the children escape in the Magic Hyundai. Mr. Frizzle's girlfriend cries and tries to break up, because she thinks Mr. Frizzle in love with his divorced wife and not with her. Mr. Frizzle says it was neither his nor Ms. Frizzle's fault, because he does not love Ms. Frizzle because she is mentally ill. She proceeds to join him, when Ms. Frizzle converts her Magic Hyundai into a smaller vehicle and drives inside Mr. Frizzle's ear to show his heart. When Mr. Frizzle says he feels weird, Ms. Frizzle turns the Magic Hyundai big, blowing Mr. Frizzle up, causing Mr. Frizzle's girlfriend and the whole living room to be covered in blood, as she screams "OH MY GOD!" While Ms. Frizzles girlfriend was in her shocked state, Ms. Frizzle and the children escape in the Magic Hyundai.
Ad blocker interference detected!
Wikia is a free-to-use site that makes money from advertising. We have a modified experience for viewers using ad blockers

Wikia is not accessible if you've made further modifications. Remove the custom ad blocker rule(s) and the page will load as expected.