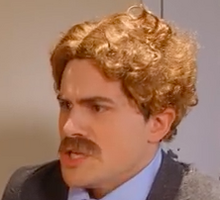 Mr. Frizzle is a character from the Adult Magic School Bus. He is portrayed by Anthony Padilla.
Adult Magic School Bus
Ms. Frizzle and the gang show up at Mr. Frizzle's house and try to take her stuff back. Mr. Frizzle and his girlfriend show up and he tells Ms. Frizzle that they have been divorced for two years and he tries to call the cops on her. After Ms. Frizzle and the gang leaves, Mr. Frizzle explains to his girlfriend that Mrs. Frizzle sick and thought the Magic School Bus had powers. Then Frizzle's shrunk Magic Hyundai drives into his ear. Mrs. Frizzle presses the grow button while inside and the car grows inside his, blowing him up.
Ad blocker interference detected!
Wikia is a free-to-use site that makes money from advertising. We have a modified experience for viewers using ad blockers

Wikia is not accessible if you've made further modifications. Remove the custom ad blocker rule(s) and the page will load as expected.